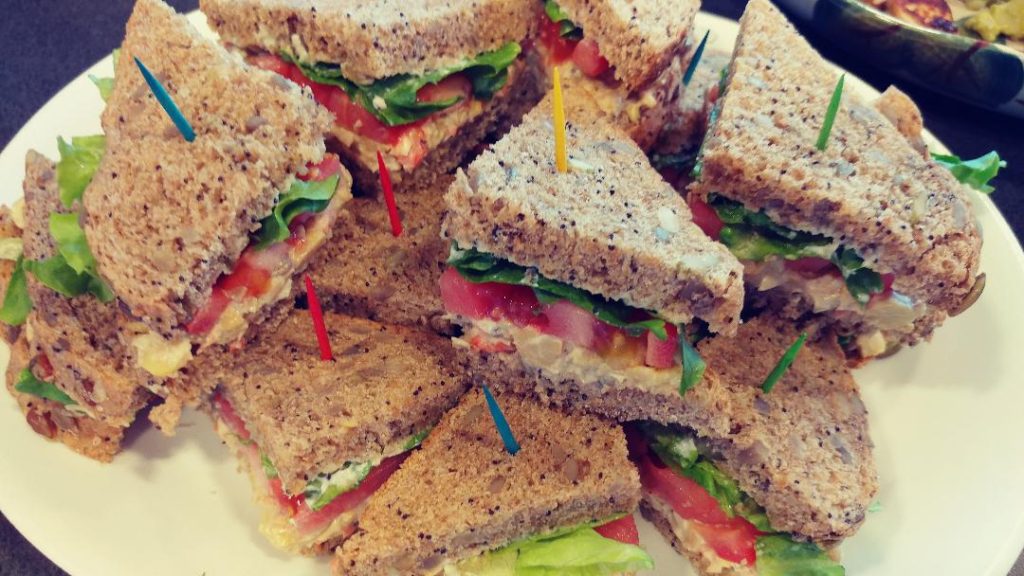 ~You can really dress this up or down. This is the recipe at its most basic. Add some dried seaweed for a more fishy taste. Add some chopped sunflower seeds for more bite. A curried chickpea salad? Sure! Add a tablespoon of curry powder and some red grape halves.~You can accomplish this recipe in a food processor if you prefer it to a cutting board. First, process the chickpeas into a chunky mash. Do NOT puree. This isn't hummus. Transfer to a bowl. Now process the carrots and celery into small pieces. Add to the bowl. Throw in everything else. Yum!
Ingredients
1 1/2 cups cooked chickpeas (a 15 oz can rinsed and drained)
1/4 cup vegan mayo, 
homemade
 or storebought
1 medium carrot, peeled and very finely chopped (almost minced)
1 stalk celery, finely chopped
2 tablespoons onion flakes
Salt and pepper to taste
For the sammiches:
Sliced tomatoes
Romaine lettuce
Whole wheat bread
Extra mayo for a'spreadin
Directions
In a mixing bowl, use an avocado masher or a strong fork to mash the chickpeas well. They should retain some of their texture and not appear pureed. A few whole ones left are ok.Mix in the mayo and give a few more mashes. Mix in the carrot, celery and onion flakes. Add salt and pepper to taste. Assemble into sandwiches, toasted or not, and serve sliced in half.
Recipe courtesy of Isa Does It: Amazingly Easy, Wildly Delicious Vegan Recipes for Every Day of the Week