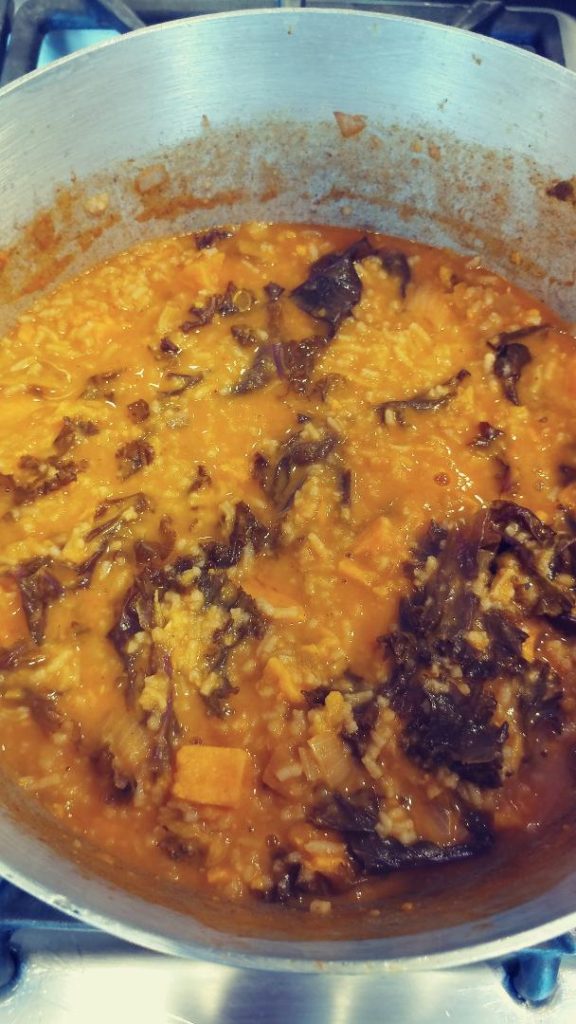 1 teaspoon olive oil
1 small onion, diced medium
3 cloves garlic, minced
1 tablespoon minced fresh ginger
3/4 cups basmati or jasmine rice, rinsed
6 cups vegetable broth
1 teaspoon salt
2 to 3 tablespoons red curry paste
1 bunch purple kale, pulled from stems and torn into bite size pieces
1 large sweet potato, peeled, cut into 1/2 inch chunks
1 can lite coconut milk
1 tablespoon agave syrup
Juice of one lime
Optional: fresh chopped cilantro to garnish
Preheat a 4 quart soup pot over medium heat. Saute onion in oil with a pinch of salt for 5 minutes or so, until translucent. Add garlic and ginger and saute a minute more.
Add rice, vegetable broth and salt, cover pot and bring to a boil.
Once boiling, lower heat to simmer. Mix in 2 tablespoons curry paste. Add kale and sweet potatoes. Cover pot and let simmer for about 15 minutes, until sweet potatoes are tender.
Add coconut milk, agave and lime. Taste for salt and flavor. Add more curry paste if you like.
Remove from heat and serve immediately, or even better let it sit for 10 minutes to give the flavors a chance to meld. Top with fresh chopped cilantro if you like
Recipe courtesy of Isa Moskowitz, Isa Does It: Amazingly Easy, Wildly Delicious Vegan Recipes for Every Day of the Week