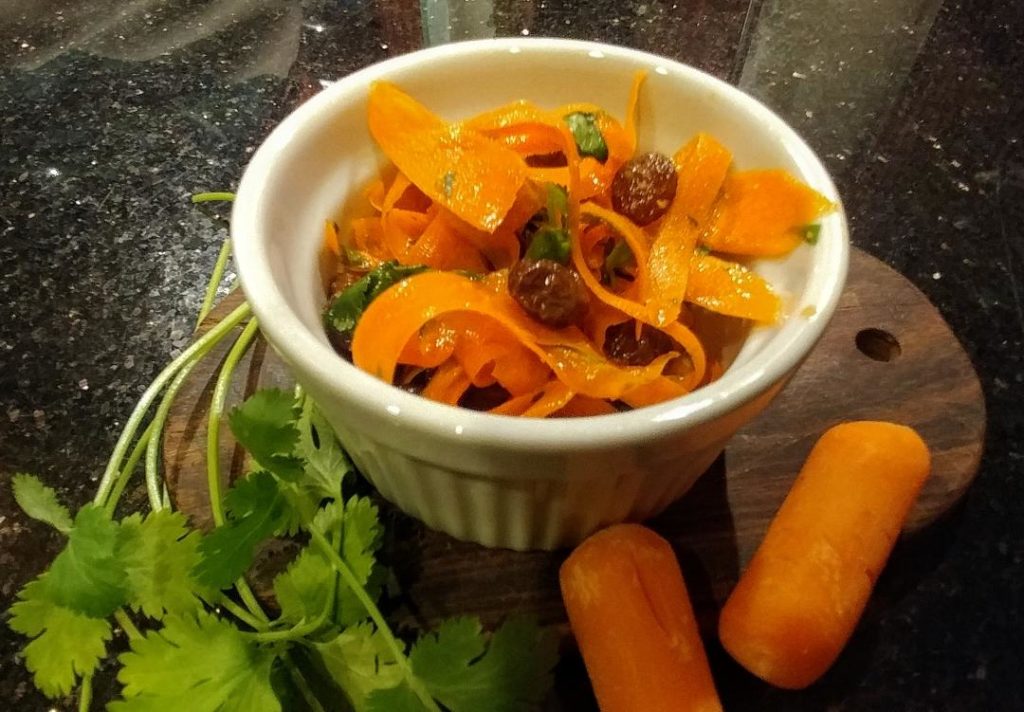 Ingredients
Lime Vinaigrette
2-3

 

tablespoons

 

freshly-squeezed lime juice

 

from about 2 small limes

3-4

 

tablespoons

 

extra-virgin olive oil

1

 

clove

 

garlic

Kosher salt
Shaved Carrot Salad
2/3 – 5/4

 

cup

 

golden or black raisins*

1

 

tablespoon

 

cumin seeds or cumin powder

2

 

pounds

 

carrots

4

 

teaspoons

 

finely grated fresh ginger

1

 

clove

 

garlic

 

grated or pounded with a pinch of salt

1-2

 

large

 

jalapenos

 

seeds and stem removed, minced

2

 

cups (about 1 bunch)

 

cilantro leaves and tender stems

 

plus a few sprigs to garnish

Kosher salt
Instructions
Lime Vinaigrette
Pour the lime juice and the olive oil into a small jar or bowl.

Smash the garlic clove**, rub a pinch of salt into it, then add it to the vinaigrette along with another pinch of salt.

Shake (if using a seal-able jar) or stir the vinaigrette to combine, then taste it on a small leaf of lettuce for flavor, adjusting the salt and acid as necessary.

Let the vinaigrette sit at least 10 minutes before using and remove the garlic clove before dressing the salad.
Shaved Carrot Salad
In a small bowl, submerge the raisins in boiling water and let them sit 15 minutes to rehydrate and become plump. Drain the raisins and set them aside.

Toast the cumin seeds in a small, dry skillet over medium heat. After about 3 minutes of swirling the seeds in the pan to toast them evenly, they should begin to smell fragrant and a couple seeds should pop. Immediately remove the seeds from the heat and dump them into a spice grinder or mortar and pestle. Add a pinch of salt, then grind the seeds into a fine powder. (You can also use Cumin powder).

Trim then peel the carrots. Using a mandoline, sharp knife, or Y-shaped peeler, thinly slice the carrots lengthwise into ribbons. Cut the thin slices into matchsticks. If this is too much effort, simply slice the carrots into thin coins or grate them in a food processor.

In a large bowl, add the carrots, grated ginger, grated garlic, minced jalapeno, chopped cilantro, cumin power, and plumped raisins. Add 3 generous pinches of Kosher salt and toss to combine. Dress lightly with the shaken and rested lime vinaigrette, then toss again to combine. Taste the salad and adjust the seasoning as desired.

Refrigerate the salad for at least 30 minutes to let the flavors mingle together. The salad will keep, fully dressed, about two days in the fridge and is even better the second day.

When ready to serve, toss to redistribute everything, then plate the salad on a large platter or in a bowl, garnished with a few sprigs of cilantro if desired.