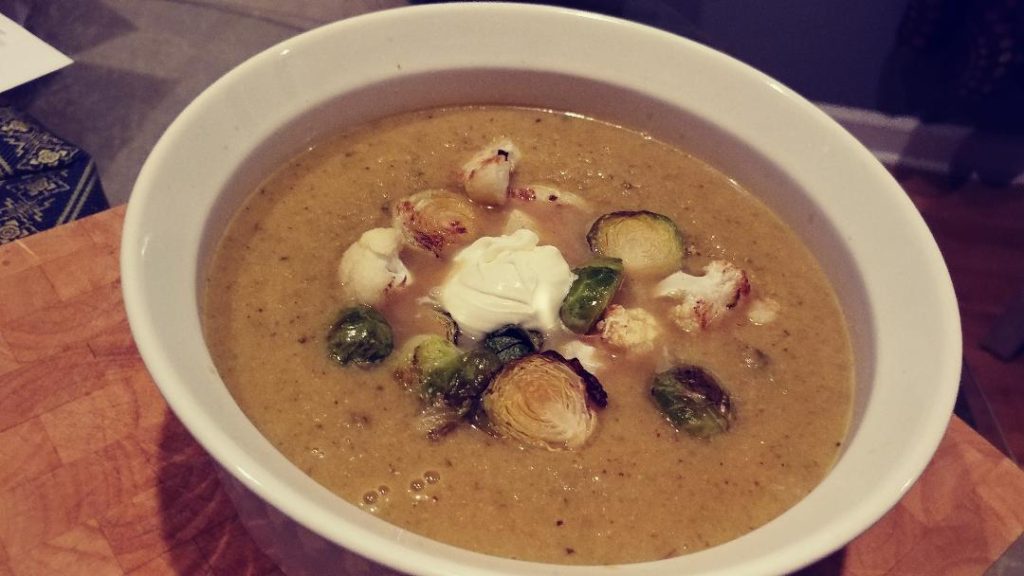 Creamy, dairy-free and tasty. Roasting the cauliflower and brussel sprouts adds flavor, and be sure to save a few of the roasted veggies to top it off for even more flavor and texture.
INGREDIENTS:
med size cauliflower cut into florets
1 lb brussels sprouts, halved
2 tbsp olive oil
2 teaspoon butter
1/2 cup chopped shallots
4 cups vegetable broth
3/4 teaspoon kosher salt
black pepper, to taste
1 teaspoon curry powder
1 teaspoon turmeric
DIRECTIONS:
Preheat oven to 425F.
Toss the cauliflower and the brussels with oil and place on a  baking sheet.  Roast on the bottom third of the oven until slightly brown (approximately 25 minutes), tossing half way.
Meanwhile, melt the butter in a large sauce pan over low heat and add shallots. Cook until translucent, about 5 minutes. Add the salt and broth and simmer 5 minutes.
Reserve about 1 generous cup of the roasted vegetables and keep warm on the baking sheet.
Transfer the rest to the pot with vegetable broth and simmer 2 minutes.
Transfer in two batches to a blender and blend until smooth. You can also use an immersion blender directly in the pot.
Mix in curry powder, turmeric or other favorite spices for added flavor.
Serve in 4 bowls topped with the roasted vegetables and fresh black pepper, to taste. Serve immediately.