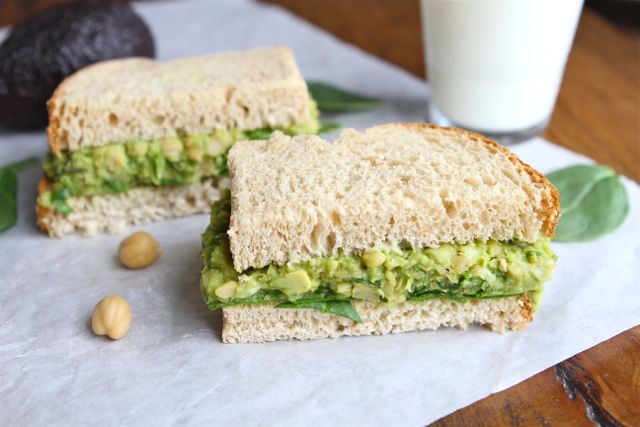 This Smashed Chickpea & Avocado Salad Sandwich is a great quick and easy lunch option that is good for you too! The salad also makes a great dip!
yield: SALAD FOR 3-4 SANDWICHES
prep time: 10 MINUTES
total time: 10 MINUTES
INGREDIENTS:
1 (15 ounce) can chickpeas or garbanzo beans
1 large ripe avocado
1/4 cup fresh cilantro, chopped
2 tablespoons chopped green onion
Juice from 1 lime
Salt and pepper, to taste
Bread of your choice (I use whole wheat bread)
Fresh spinach leaves or other sandwich toppings: lettuce, tomato slices, sprouts, etc.
DIRECTIONS:
Rinse and drain the chickpeas.
In a medium bowl, using a fork smash the chickpeas and avocado together or give them a quick whirl through a blender. Add in cilantro, green onion, and lime juice. Season with salt and pepper, to taste.
Spread salad on bread and top with your favorite sandwich toppings. I like to add fresh spinach leaves.
Note: This salad also makes a great dip. Serve with cut up veggies, crackers, or pita chips. Also, this salad is best eaten the day it is made because it will turn brown due to the avocado.