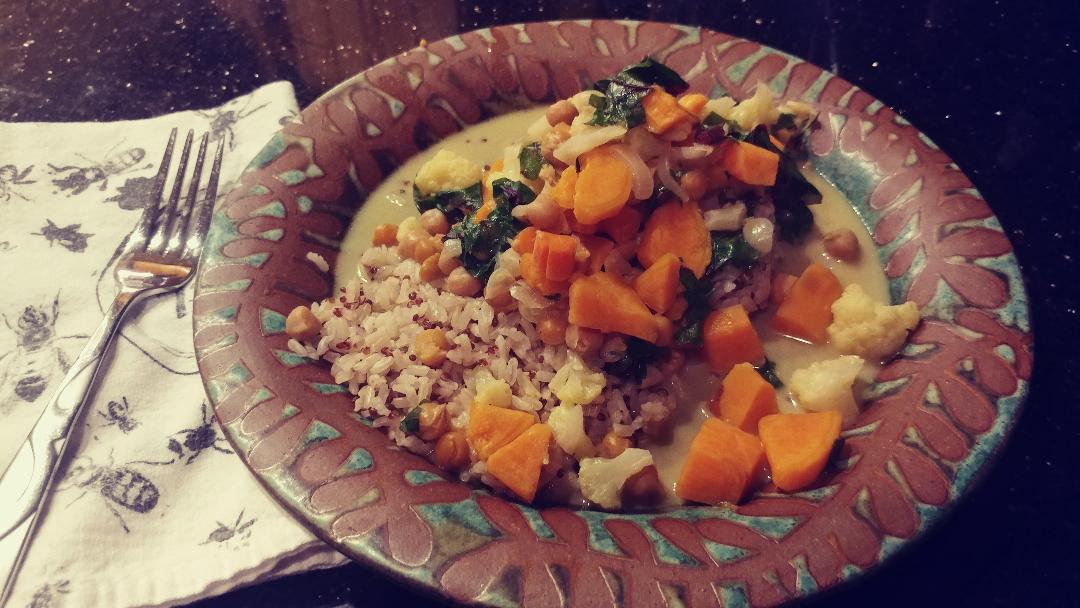 INGREDIENTS
2 tablespoons coconut oil
1 onion, peeled and diced
1 tbsp. curry powder
2 carrots, peeled and diced
1
medium
cauliflower
,
cut into florets
2 medium
sweet potatoes
, diced
Small handful of
brussel sprouts, halved
2 cups garbanzo beans (
cooked or canned)
1 15oz can of
unsweetened
coconut milk
4 cups vegetable broth
2 bunches of
any type of
greens,
washed and cut (kale, bok choy, escarole, collards, turnip greens, etc.)
Salt and pepper to taste
Fresh basil strips for garnish
In a large pot heat coconut oil and sauté onions and curry
powder
until the onions are soft (about 6-8 minutes). Add the vegetables, beans, and coconut milk. Bring to simmer and add the vegetable
broth
. Simmer until the
sweet
potatoes are tender (about 15 minutes). Add the greens, then season with salt and pepper.
Serve with brown rice. Garnish with basil.