Quinoa, Black Bean and Mango Salad with Lime Dressing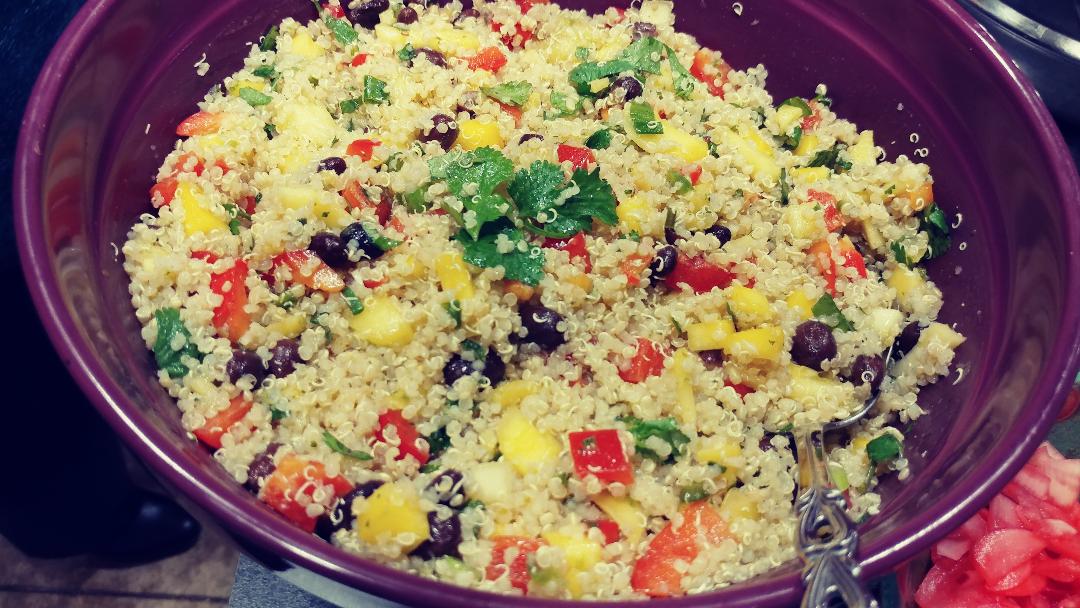 Ingredients
1½ cups prewashed white quinoa
2¼ cups water
Salt and pepper
5 tablespoons lime juice
 (3 limes)
½ jalapeño chile, stemmed, seeded, and chopped
¾ teaspoon ground cumin
½ cup extra-virgin olive oil
1/3 cup fresh cilantro leaves
1 red bell pepper, stemmed, seeded, and chopped
1 mango, peeled, pitted, and cut into ¼-inch pieces
1 (15‑ounce) can black beans, rinsed
2 scallions, sliced thin
1 avocado, halved, pitted, and sliced thin
Directions
1. Toast quinoa in large saucepan over medium-high heat, stirring often, until very fragrant and makes continuous popping sound, 5 to 7 minutes. Stir in water and ½ teaspoon salt and bring to simmer. Cover, reduce heat to low, and simmer gently until most of water has been absorbed and quinoa is nearly tender, about 15 minutes. Spread quinoa onto rimmed baking sheet and let cool for 20 minutes; transfer to large bowl.
2. Process lime juice, jalapeño, cumin, and 1 teaspoon salt in blender until jalapeño is finely chopped, about 15 seconds. With blender running, add oil and cilantro; continue to process until smooth and emulsified, about 20 seconds.
3. Add bell pepper, mango, black beans, scallions, and lime-jalapeño dressing to cooled quinoa and toss to combine. Sea­son with salt and pepper to taste. Serve, topping individual portions with avocado.
*Adapted from America's Test Kitchen's Everyday Vegetarian.