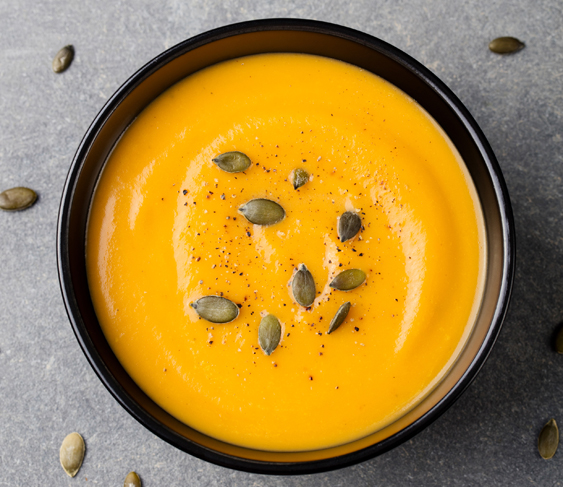 Step 1
2 Tbsp. butter or olive oil
1 medium onion, diced
3 garlic cloves, minced
3 Tbsp ginger, minced (or to taste)
1 jalapeno pepper, minced (optional)
3 red bell peppers, diced (or 3 roasted red bell peppers from a jar)
2 c. diced celery
2 c. cubed root vegetables (carrots, parsnips, golden beets, fennel, turnips, etc)
1/4 c. apple cider vinegar
1 c. broth or water
Step 2
2 c. pumpkin puree (one 15 oz can)
2 Tbsp pumpkin pie spice
1 tsp salt
1 tsp ground pepper
1 c. full-fat coconut milk (or ½ c. heavy whipping cream and an additional ½ c. broth)
Directions:
Melt cooking fat in a large pot over medium-low heat. Add onion to the pot, sautéing until translucent – about 5 minutes.
Add garlic, ginger, jalapeno pepper, red bell pepper, celery and remaining root veggies.
Pour in apple cider vinegar and broth, turning heat up to medium-high until it boils, then cover and reduce to a simmer for 10-15 minutes, or until veggies can be pierced with a fork.
Stir in pumpkin puree and spices.
Remove pot from heat to cool. Once safe and cool, blend soup in blender or with immersion blender. Pureed to your desired texture, then add remaining liquid. Stir in coconut milk or cream & broth mixture.
Serve and enjoy as a side dish! Top with toasted pumpkin seeds or freshly chopped herbs (sage, cilantro, chives, or parsley).