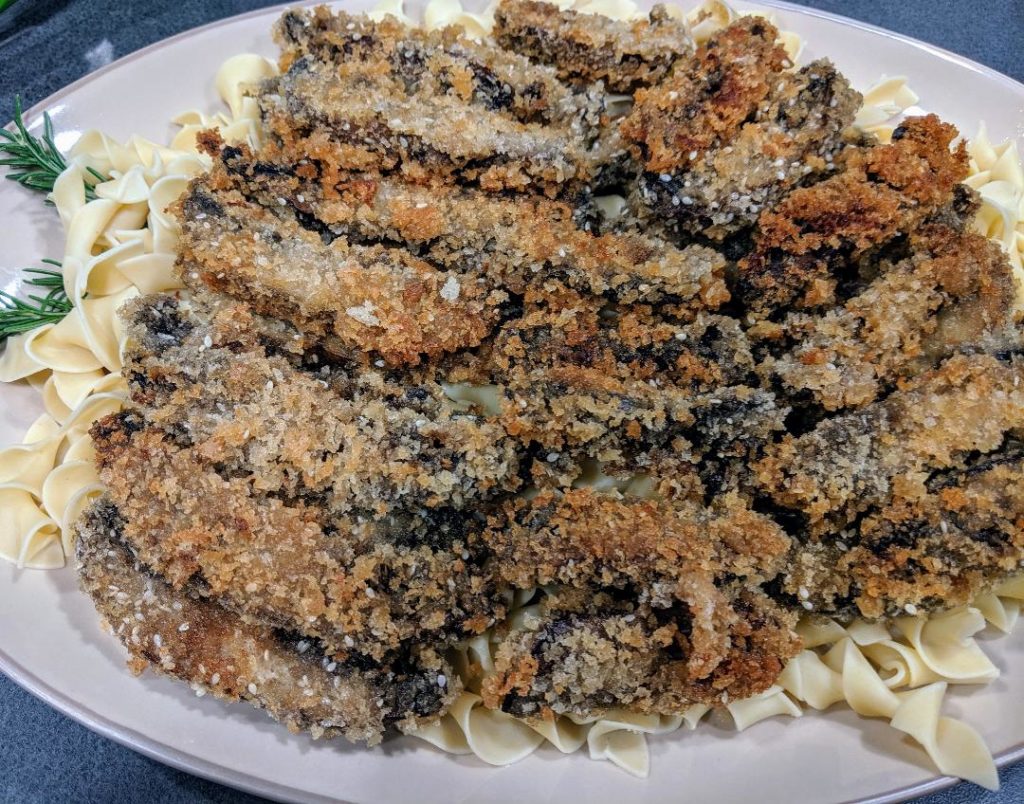 Portobello Mushroom Schnitzel/ Jaeger style sauce*
Servings 6    Prep Time  10 minutes   Cook Time  20 minutes
Total Time
30 minutes
Delicious crunchy vegan beer-battered schnitzel recipe with panko. Can also be made with seltzer instead of beer. Crispy, flavorful, irresistible.
Ingredients
Crispy Panko Coating Ingredients
1 1/4 cups flour
1 tbsp cornstarch
1 tsp salt
1 tsp garlic powder
1/2 tsp cayenne pepper
1 tbsp hot sauce
12 oz beer or seltzer water or more as needed (Heineken, Koelsh)
3-4 cups panko breadcrumbs
2 tbsp sesame seeds optional, recommended
Other Ingredients
4 large portobello mushroom caps (1/2 lb. total), cut into slices a little wider than 1/2 inch
Grapeseed oil for frying
Recipe Notes
You will also need: Mixing bowl, skillet, paper towels or wire cooling rack
Instructions
In a mixing bowl whisk together the flour, cornstarch, salt, garlic powder and cayenne.
Stir in the hot sauce and beer or seltzer until a thick but pourable batter forms. Note that the beer will be difficult to measure out due to foam; you'll need at least one 12 oz. bottle of beer to make this batter. The batter should be thick like pancake batter, but if it appears clumpy or overly thick add more beer, seltzer or water until mixture is thin enough for dipping.
Stir together the panko breadcrumbs and sesame seeds, then pour them onto a plate. Dip the mushroom slices into the batter…
…then into the panko sesame mixture to coat. Use one hand for wet dipping and the other for dry, otherwise you'll end up with lots of clumps in the dry coating ingredients.
Heat ½ inch of grapeseed oil in a skillet over medium until hot but not smoking. Fry the mushroom slices in batches of 4 or 5 pieces for 2-3 minutes on each side until golden brown and crispy. You may need to add more oil midway through cooking. Drain on paper towels or a wire cooling rack.
Sprinkle with additional salt to taste, if desired. Serve hot.
Jaeger Sauce* not vegan
1 ½ cups low sodium chicken broth (may sub vegetable broth)
1 ½ T cornstarch
2 T sour cream
1 T unsalted butter
8 oz sliced fresh mushrooms
1 green pepper sliced very thin
1 small sweet onion sliced very thin
2 T Madeira (or dry Marsala wine)
½-1 pkg Knorr Classic brown gravy powder
Directions:
Whisk together broth, cornstarch, brown gravy mix and sour cream; set aside
Drain oil from pan you cooked mushroom schnitzel in. Add butter.
When butter is melted, add sliced mushrooms. Increase heat to high-watch carefully. When browned and softened, add onions and green peppers to pan. Lower heat and cover.
Remove cover and add wine stir frequently. Most wine will evaporate.
Reduce heat to medium, add chicken broth mixture. Cook, stirring frequently until thickened. If too thick: add more left over beer or wine or water.