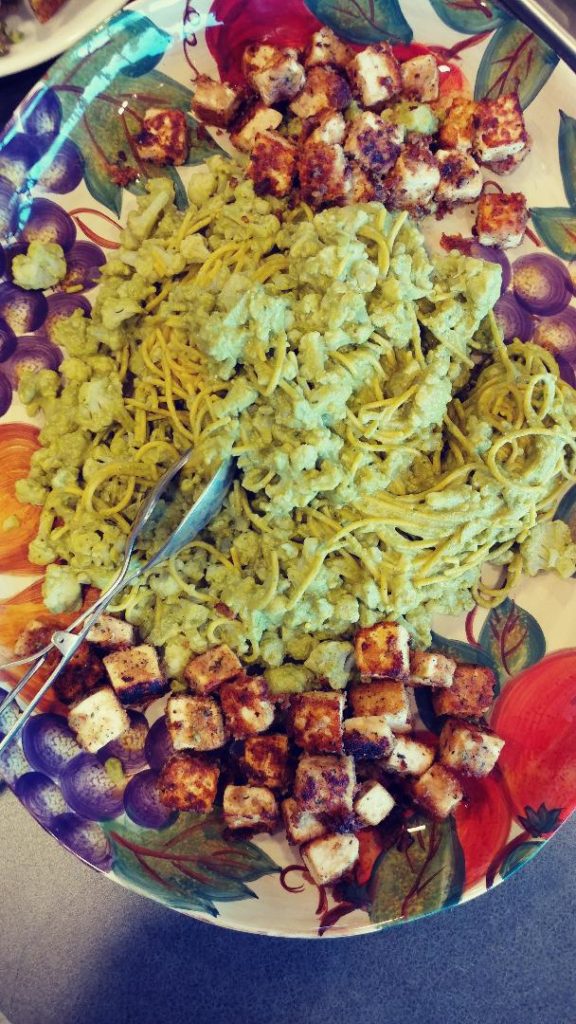 1 block of extra firm tofu
3/4 cup of bread crumbs
Dry herbs of choice to be added to the bread crumbs
A few Tbsp of soy sauce or tamari
olive oil
8 oz of pasta of choice
cauliflower florets (a few cups)
For the pesto: (Want to save time?  Add a small jar or prepared pesto)
2 cloves garlic
1/3 cup nuts (cahews, walnuts, pine "nuts", etc.)
3 cups fresh basil (a few handfuls)
1/2 cup fresh cilantro or parsley
3/4 tsp salt
1/2 cup vegggie stock
1/4 nutrional yeast
1 Tbsp lemon juice
Pepper to taste
Two options here…roast the cauliflower florets at 375 F for 30-35 minutes with olive oil, salt and pepper, flipping once. Want to save time? You can also just boil the cauliflower with the pasta. Roasted tastes better, but it takes more work.
Slightly dry and cube the tofu (about 32 cubes or whatever). Start the water for the pasta (be sure to salt the water). Roll the cubes in the soy sauce and dip them into the bread crumbs that have been seasoned with the herbs you like (we used dry thyme, rosemary, basil and garlic powder). Set the cubes aside. When ready, lightly fry the breaded cubes in the minimum of oil until browned. Use a delicate spatula and work in batches. You can leave the cooked tofu and/or cauliflower in a lightly warmed oven as needed while you work.
Make the pesto by placing the garlic and nuts into a food processor or blender. Buzz them up a bit and then add the rest of the pesto ingredients and blend until you think it's done. Set aside.
You may have multitasked and cooked the pasta (we used linguine) according to the package directions by now. If not, cook the pasta, drain and mix in the pesto and cauliflower. Serve with the crispy breaded tofu cubes!
Recipe is based on Isa Moskowitz's Isa Does It: Amazingly Easy, Wildly Delicious Vegan recipes for Everyday of the Week.