Pasta Frittata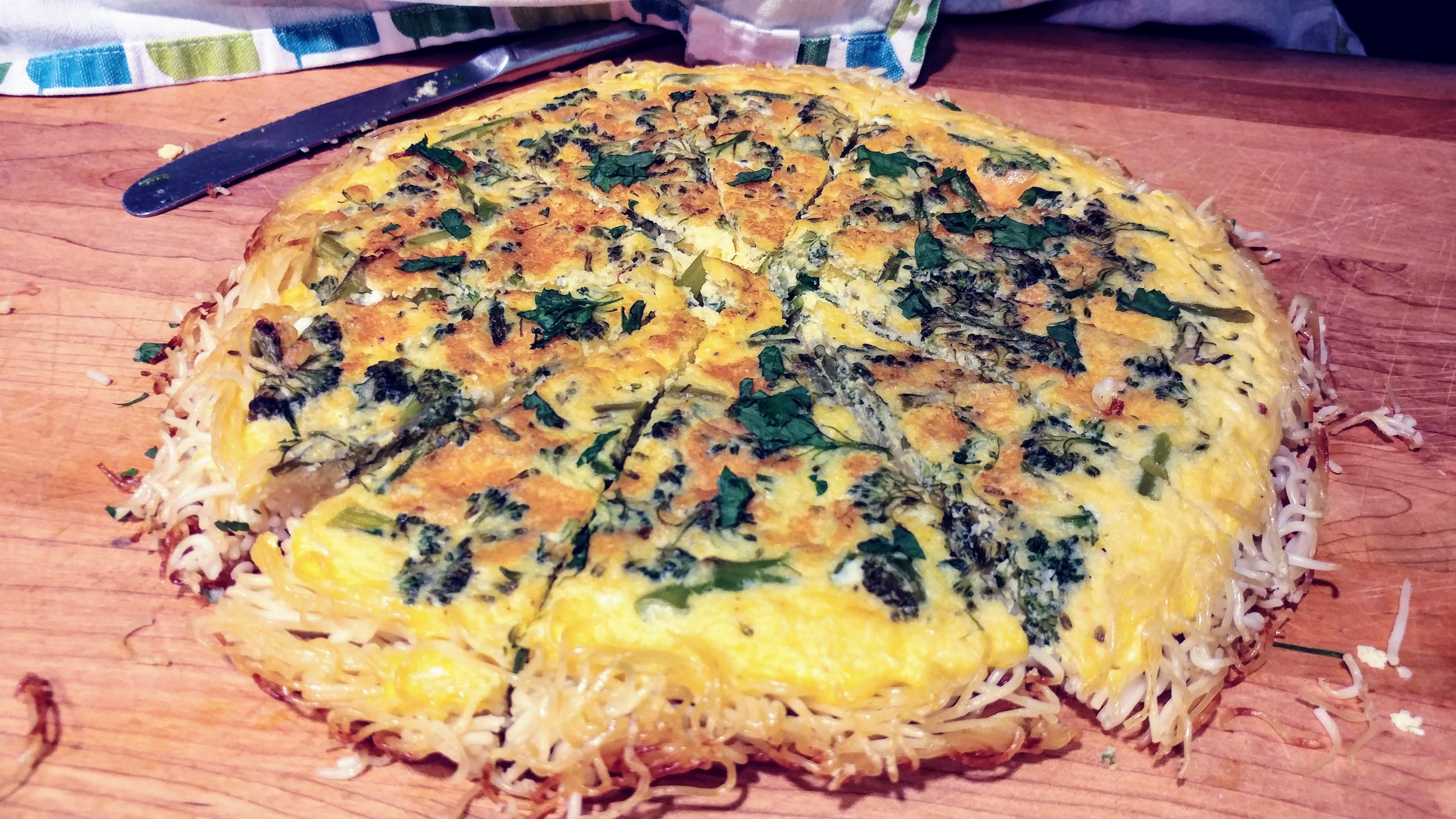 Ingredients:
8 Large Eggs
1/2 Cup grated parmesan cheese
3 tbsp olive oil
6 tsp coconut oil
2 garlic cloves
1/8 tsp pepper flakes
8 ozs broccoli rabe, trimmed and cut into 1/2-inch pieces
3 cups water plus 1 tbsp
1 tbsp white wine vinegar
6 ozs angel hair pasta, broken in half
Salt and Pepper
Directions
Whisk eggs, parmesan, olive oil. 1/2 teaspoon salt, and 1/2 teaspoon pepper in a large bowl.  Saute garlic and pepper flakes in 2 tsps coconut oil in a 10 inch skillet for about 1 minute.  Stir in broccoli rabe, 1 tablespoon water, and 14 teaspoon salt.  Cover and cook until broccoli rabe is bright green and crisp-tender, 2 to 3 minutes. Take off heat, stir in vinegar, then transfer broccoli rabe mixture to bowl with egg mixture.
Wipe skillet clean with paper towels, then add pasta, remaining 3 cups water, remaining 3 tsp coconut oil, and 3/4 tsp salt.  Bring to boil over high heat and cook, stirring occasionally, until pasta is tender, water has evaporated, and pasta starts to sizzle in oil, 8 to 12 minutes.  Reduce heat to medium and cook, swirling pan and scraping under edge of pasta with heat-resistant spatula frequently (do not stir), until bottom turns golden and starts to crisp, 5 to 7 minutes.
Using spatula, push some pasta up sides of skillet to cover entire surface of pan.  Pour egg mixture over pasta.  Using tongs, lift up loose strands of pasta to allow egg to flow toward skillet, being careful not to pull up crispy bottom crust.  Cover skillet and continue to cook pasta mixture over medium heat until bottom crust turns golden brown and top of frittata is just set (egg below very top will still be raw, 5 to 8 minutes.
Slide frittata onto large plate, then invert onto second large plate and slide back into skillet browned side up.  Using spatula, touch edges of frittata into skillet.  Continue to cook over medium heat until second side golden brown, 2 to 4 minutes.  Remove skillet from heat and let stand for 5 minutes.  Using your hand or skillet lid, invert frittata onto cutting board.  Cut into wedges and serve.
adapted from Everyday Vegetarian from America's Test Kitchen