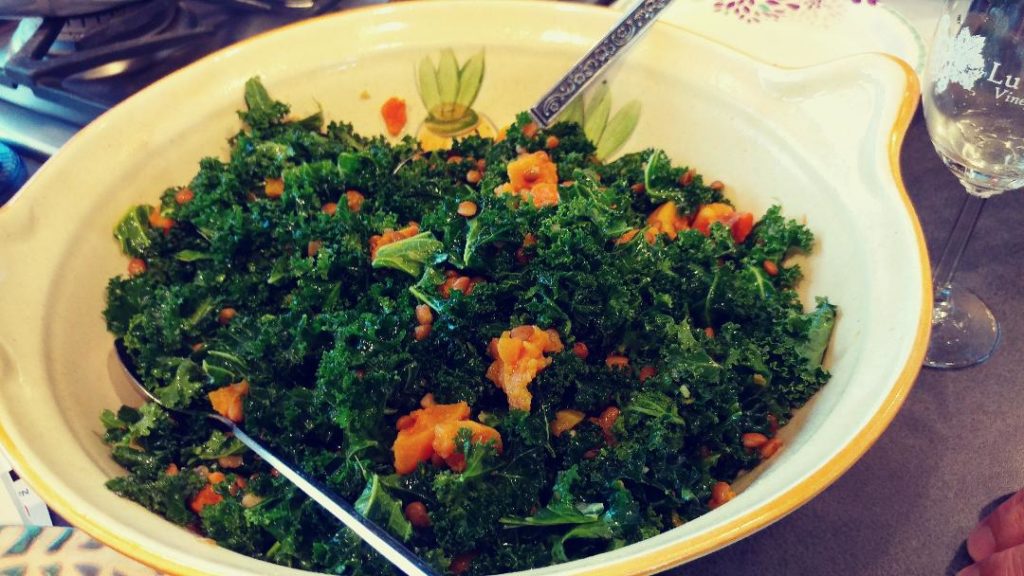 Ingredients
1 (1-pound) butternut squash
2 tablespoons white wine vinegar
2 teaspoons agave nectar or pure maple syrup
1½ teaspoons finely minced fresh ginger
1 clove garlic, finely minced
8 ounces kale, stems removed, torn into bite-size pieces (about 8 cups)
1½ cups cooked brown lentils (or one 15-ounce can, rinsed and drained)
Steps
Peel the squash and divide the round part from the long part. Cut the round part in half and scoop out the seeds. Slice everything into ½- to ¾-inch pieces.
Line a large baking sheet with parchment paper. Spread the squash out in a single layer and drizzle with 1 tablespoon of the olive oil. The single layer is important because if the baking sheet is overcrowded the squash won't brown, it'll steam and just get mushy. Sprinkle with ¼ teaspoon of the salt and toss with your hand to coat.
Pop in the oven for about 25 minutes, flipping after 15 minutes or so. It's done when lightly browned on the outside and tender inside. Remove from the oven and let cool.
Stir together the remaining 3 tablespoons olive oil, vinegar, agave nectar, mustard, ginger, garlic and remaining ¼ teaspoon salt in a large bowl — everything will be going in there, so make sure it's large enough to hold all that kale.
Add the kale and take a minute or so, using your hands, to rub the vinaigrette into the leaves, really swishing them around in there.
Add the cooked squash and the lentils and toss to coat. Give the flavors a few minutes to settle in, then taste for seasoning and serve.
(15 minute option: Don't feel like butternut squash, or just looking for something a little less labor intensive? Replace the roasted butternut with uncooked apples. Just peel two tart apples, like Granny Smiths, and dice them into ½-inch pieces.)
From Isa Does It: Amazingly Easy, Wildly Delicious Vegan Recipes for Every Day of the Week