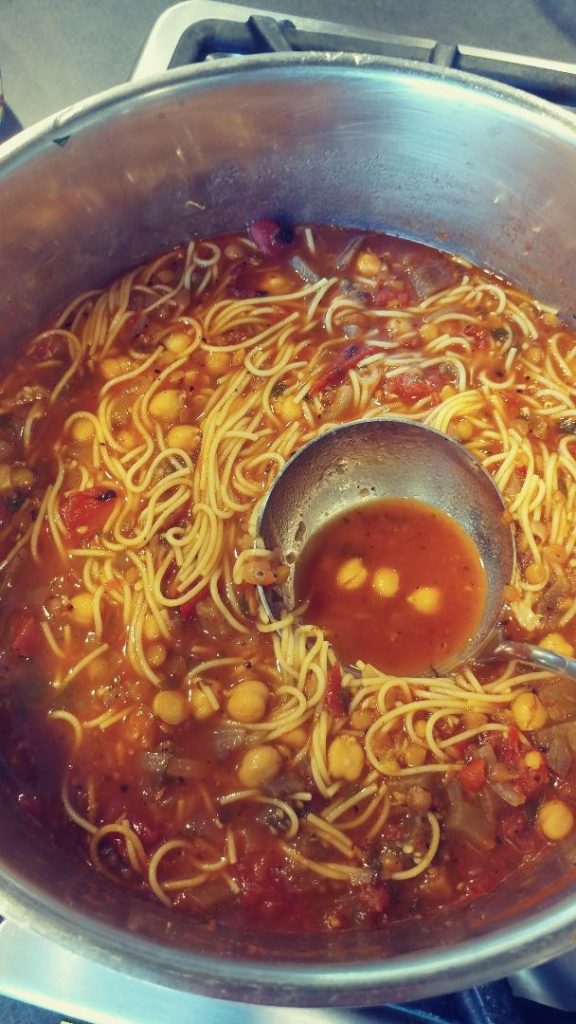 Harira is a Moroccan noodle soup served during Ramadan to break the fast. I would classify this hearty dish as more of a stew that is a meal on its own.
Harira with Eggplant and Chickpeas
Courtesy of Isa Does It
2 tbsp olive oil
1 medium yellow onion, thinly sliced
1 tsp salt, plus a pinch (note: I used less)
4 cloves garlic, minced
2 tbsp minced fresh ginger
1/2 tsp crushed red pepper flakes (I used Aleppo chile flakes)
8 cups vegetable broth (note: I used a combination of water with nutritional yeast, dried parsley, lemon pepper and 21-spice seasoning)
1 medium eggplant (~1 lb), peeled and cut into 1/2-inch chunks
1/2 cup brown or green lentils
2 tsp sweet paprika (note: I used sweet smoked paprika)
1/4 tsp ground cinnamon
1 tsp saffron threads, crushed (note: Isa says optional but it was a great addition; I would recommend a bit less, though)
1 (24-oz) can crushed tomatoes
1 (15-oz) can chickpeas, rinsed and drained (1.5 cups cooked chickpeas)
1/4 cup chopped fresh mint, plus extra for garnish
1/4 cup chopped fresh cilantro, plus extra for garnish
4 ounces angel hair pasta (for a lower carb version try substituting a spiralized zucchini, being sure to then cut them into manageable lengths)
1. Preheat a 4-quart soup pot over medium heat and add the oil. Saute the onion in the oil with a pinch of salt until translucent, 3-4 minutes. Add the garlic, ginger, and red pepper flakes and saute for 1 more minute.
2. Deglaze the pot with a splash of broth. Add the eggplant, lentils, paprika, cinnamon, remaining 1 tsp of salt and saffron threads (if desired), along with 4 cups of the broth. If you add all of the broth it will take a longer time to come to a boil and break down the lentils and eggplant, which is why we're not adding it all at once.
3. Cover the pot and bring to a boil. Keep it at a boil but lower the heat a bit if it's boiling too violently. Leave the lid slightly ajar so that steam can escape, and boil for 20 minutes, checking and stirring occasionally. The eggplant should be mostly disintegrated and the lentils should be soft.
4. Add the tomatoes, chickpeas, mint and cilantro and at least 2 more cups of vegetable broth, and more if needed to make it soup-like and not too thick. Bring to a boil, then break the pasta strands into thirds and add to the pot, gently coaxing with a spatula to submerge and separate the strands. Cook until the pasta is soft then thin out the soup with the remaining broth, if needed. ( note: if using zucchini, just cook for 1 minute as it will soften very fast). Serve in big bowls, with extra herbs for garnish.
Serves 8-10.