Fiesta Quinoa Salad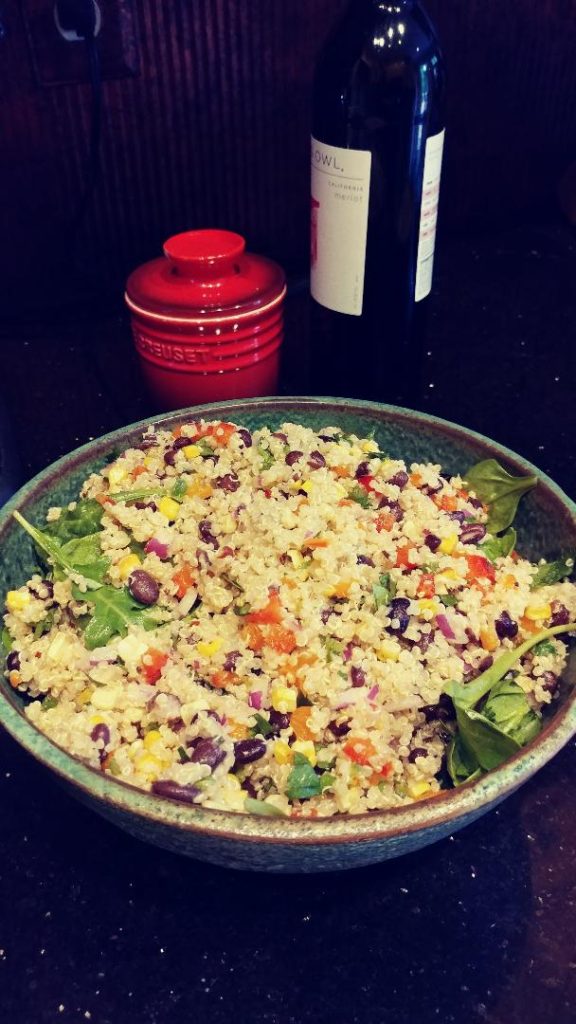 Dressing:
1 tablespoon minced garlic
1/2 cup fresh lime juice
1/2 cup extra virgin olive oil
1 rounded tablespoon agave syrup
1/2 teaspoon crushed red pepper flakes
salt & pepper
Salad:
Cooked Quinoa- 1 1/2 cups dry
1 red bell pepper cored, seeded, and diced
1 yellow bell pepper cored, seeded, and diced
1 can drained and rinsed black beans
1 cup roasted corn kernels. (you can find frozen corn kernels at trader joes this time i used the white corn but they have fire roasted that would work well in this salad- thaw before using)
1 cup chopped fresh cilantro leaves
1/4 cup chopped red onion
1 jalapeno chile, seeded and finely minced
arugula
For the dressing:
in a small food processor or blender combine the garlic, lime juice, oil, agave, red pepper flakes and salt and pepper and process until the mixture is emulsified.
For the salad:
In a large bowl, combine the quinoa, bell peppers, beans, corn, cilantro, onion and jalapeño. Add the dressing and toss. Just before serving add some arugula to your salad and toss once more to combine.
*Recipe courtesy of Giada De Laurentiis' Happy Cooking Cookbook.