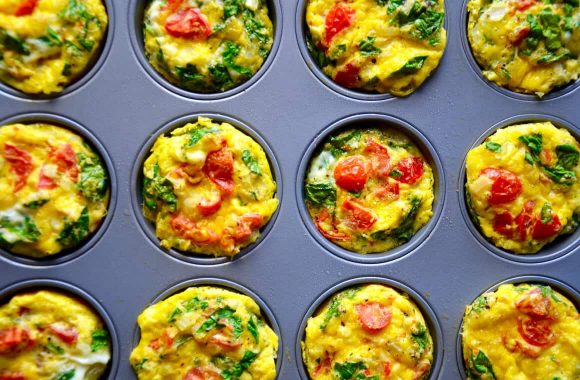 Ingredients
4 eggs
1⁄

4

cup chopped onion
1⁄

4

cup chopped green pepper

1/4 cup chopped mushrooms

1/4 cup chopped spinach

1 clove garlic

dash 

salt

dash

 pepper

dash turmeric powder (optional)

1⁄

4 

cup shredded cheese of your choice
Directions
Preheat oven to 350°.

Saute vegetables in coconut oil until tender.

In a bowl, beat eggs, then add onion, green peppers, salt, pepper and garlic.

Stir in cheese.

Pour mixture in well greased mini muffin tin.

Bake at 350° for 15 minutes or until a knife inserted comes out clean.
Coach's Tip:  Recipe can be doubled and added into regular size muffin tins, but make sure your muffins tins are well greased to prevent sticking. Make plenty at one time.  The muffins will last 2-3 days in the refrigerator and can be reheated in a toaster oven or microwave.  Experiment with different fillings to add more variety!