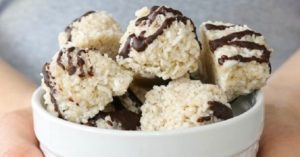 Coconut Bombs
courtesy of Paleohacks
Total Time: 20 minutes
Prep Time: 15 minutes
Cook Time: 5 minutes
Serves: 14
Tools:
Blender
Baking sheet or plate
Wax paper
Double boiler
Ingredients:
2 cups shredded unsweetened coconut
1/3 cup coconut oil, melted
2 tablespoon raw honey
4 ounces raw dark chocolate chips
1/2teaspoon vanilla bean powder, optional
Instructions:
In a blender, add shredded coconut, coconut oil, raw honey and vanilla bean powder. Blend until mixture is fine and crumbled.
Line a small baking sheet or plate with wax paper. Using a tablespoon-size measuring spoon, scoop mixture and form into small mounds, using your hands. Set onto wax paper. Place in freezer 10 minutes to set.
Using a double boiler, melt chocolate until smooth. Use a butter knife to drizzle coconut bombs with chocolate. Place back into the refrigerator to set 10 minutes. Store your coconut oil fat bombs in the refrigerator and enjoy whenever you'd like!