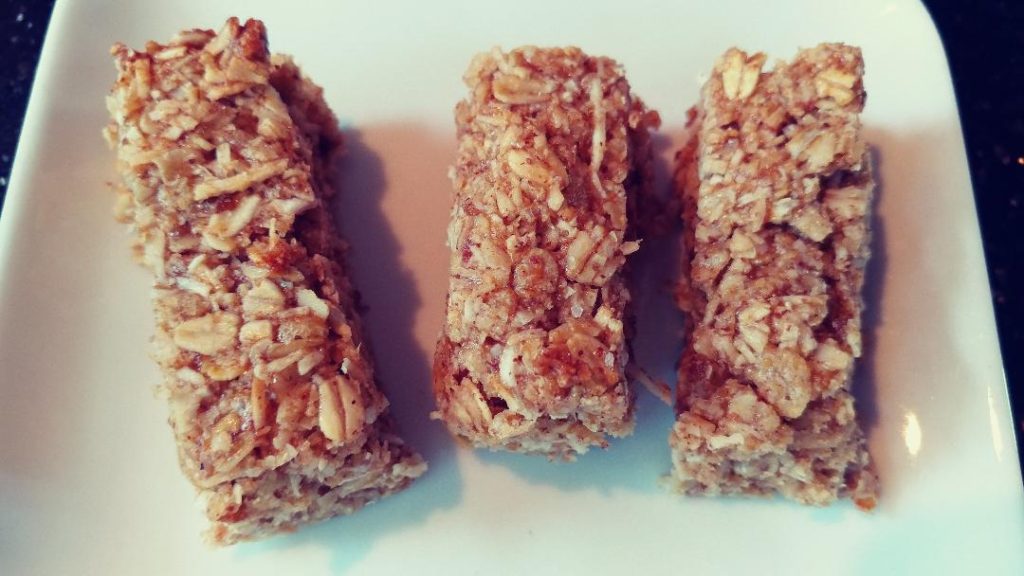 1/2 cup smooth natural almond butter
1/4 cup maple syrup
1/4 cup brown rice syrup
1 tbsp coconut oil, melted
1 tsp pure vanilla extract
1/2 tsp salt
2 cups rolled oats
1 cup crisp rice cereal (like Rice Krispies)
3/4 cup unsweetened shredded coconut
1/2 cup dates, coarsely chopped
1. Preheat oven to 350F. Line an 8-inch square baking pan with parchment paper.
2. In a large bowl, stir together the almond butter, maple syrup and brown rice syrup until smooth. Stir in the oil, extract and salt.
3. Using a fork and eventually your hands, mix the oats and crisp rice cereal. Stir in the coconut and dates and knead until well distributed.
4. Transfer the mixture to the parchment-lined pan and spread evenly in the pan. Use your fingers to press the mixture in firmly.
5. bake for 22-25 minutes until the sides are golden.
6. Remove from the oven and allow to cool completely in the pan. To remove from the pan, lift form the parchment paper. Use a chef's knife to slice into 8 bars. Individually wrap in saran wrap for easy transportation and store in the fridge for up to a week.  Be creative and add your favorite nuts, dried fruit like cranberries or chocolate chips for a little more decadent treat!
Recipe courtesy of Isa Moskowitz's, Isa Does It: Amazingly Easy, Wildly Delicious Vegan Recipes for Every Day of the Week.