Health & Wellness

Retreat to the Blue Ridge Mountains!
Thursday, October 10th – Sunday October 13th
Rejuvenate your body, mind and spirit with Health Coach, Alan Murphy in a Fall wellness retreat in the Blue Ridge Mountains. You'll spend 3 nights in a quaint bed and breakfast nestled on the banks of the New River in Grassy Creek, NC.  Together we will learn a healthy eating, workout and mindfulness regimen that will get you on track with a more healthy lifestyle.
Includes:
Daily Workouts,  and Yoga Classes designed to be challenging yet adaptable for all fitness levels

Group Coaching sessions with Health Coach, Alan Murphy on topics such as Choosing the Right Diet for You; Addressing Cravings and Setting and Achieving your Health & Wellness Goals

Meditation and Mindfulness exercises to help you learn stress reduction techniques

Healthy Breakfast each morning

Guided 14 Day Detox Program that  you will continue at home
*Does not include rooms or meals other than breakfast
Cost for retreat $235
Itinerary: We'll kick off each day with an outdoor workout (weather permitting…indoors if not) that will have elements of strength conditioning, cardio, core, agility, balance and flexibility drills.  Whether you are new to an exercise regimen or a more advanced fitness enthusiast, these workouts will not only push you, but will inspire you to continue with an exercise routine at home.  Over breakfast at the Inn, we will define, set and strategically plan out fitness and wellness goals you want to achieve.  Maybe it's to lose weight or come off certain medications, or maybe it's a needed jumpstart to a new lifestyle.  You will be inspired! 
There will be plenty of time in the afternoon for a massage or a trip into town for shopping.  You may decide to go on hike in search of wild ponies or a majestic waterfall.  For those that chose a relaxing kayak trip down the New River that we will do as a group.  Evenings we'll gather for dinner at a local restaurant or brewery in nearby West Jefferson, or experience the local music culture at one of the nearby venues.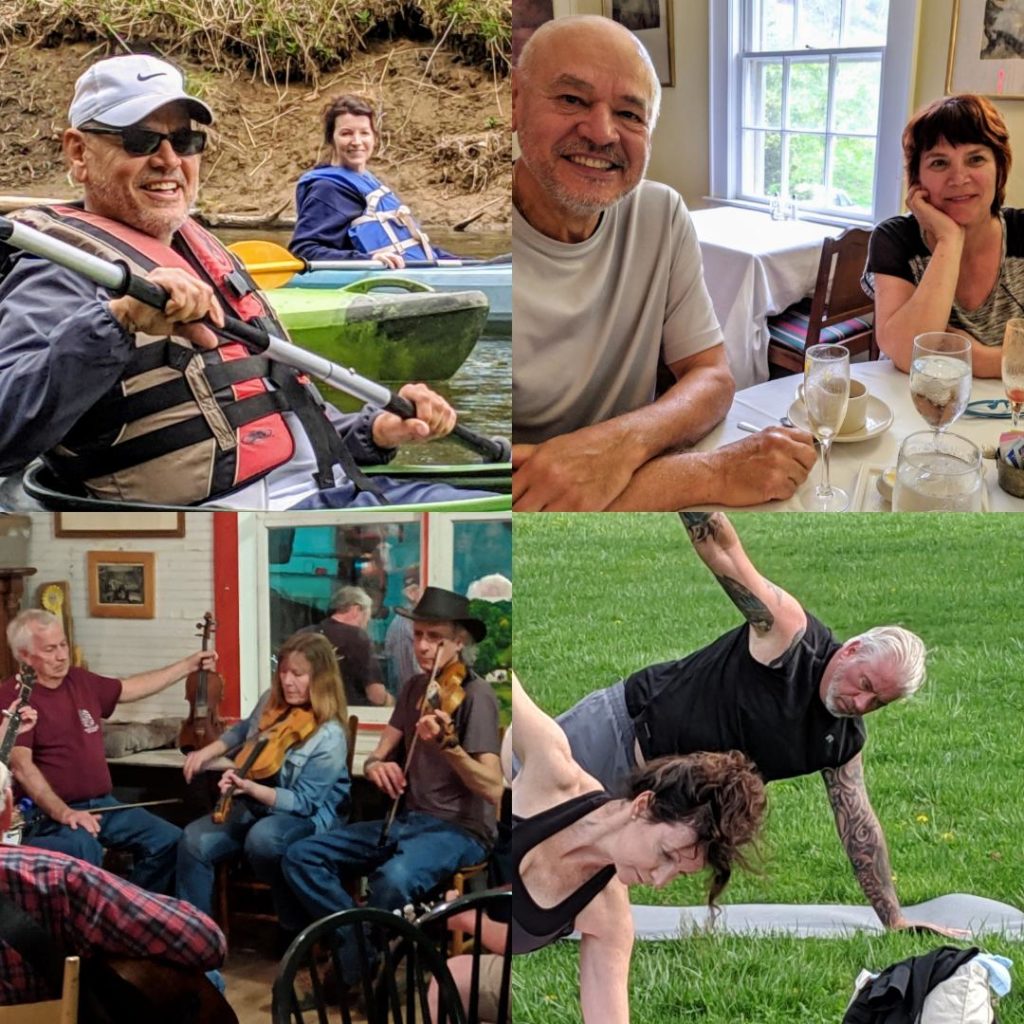 Hurry….Space is limited!  Contact Coach Alan today to reserve your spot!